Creative education is where students are taught to use their imagination and critical thinking to create meaningful forms of ideas that are unique, allow them to be independent, and allow them to be flexible. Creative Education primarily uses imagination and critical thinking to produce new and meaningful forms of ideas where individuals can take chances, be independent, and adaptable.
Creative Education is one of the education disciplines that influences every other field. Learning to come up with unconventional solutions is called divergent thinking. Divergent thinking is adapted in creative education to make students think out of the box and come up with the most creative solutions.
For the first time India managed to cross the mark by placing themselves at 46th position as of 2021 on the Global Innovation Index (GII) that calculates success in Innovation. India ranks 2nd among the 34 lower middle-income group economies. India ranks 1st among the 10 economies in Central and Southern Asia, and ranks 99th on the Global Creativity Index (GCI) which is based on creativity, talent, tech and tolerance.
Creative education ignites the student mind to come out with unique solutions for the problems. Students are allowed to collaborate, observe and come up with many solutions and then they choose the unique solutions for the problem by considering the cost factor, user experiences and adaptability of the technology.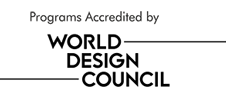 The programs of Bachelor of Design (B.Des) in Communication Design are accredited by the World Design Council (WDC). WDC is a forward-thinking global professional organisation committed to promoting design thinking and developing future creative talents. With a focus on understanding the value of design thinking in addressing complex challenges, WDC works with individuals, communities, organisations, and governments to create a more sustainable and equitable world through design. WDC collaborates with governments, academic institutions, organisations, and communities to promote design education and design thinking as critical tools for innovation and social change.